Office 365 becomes Microsoft 365
The Office solution you know, even better
High-performance messaging with Exchange and the latest version of your favorite Office applications on every device: take advantage of our free installation support!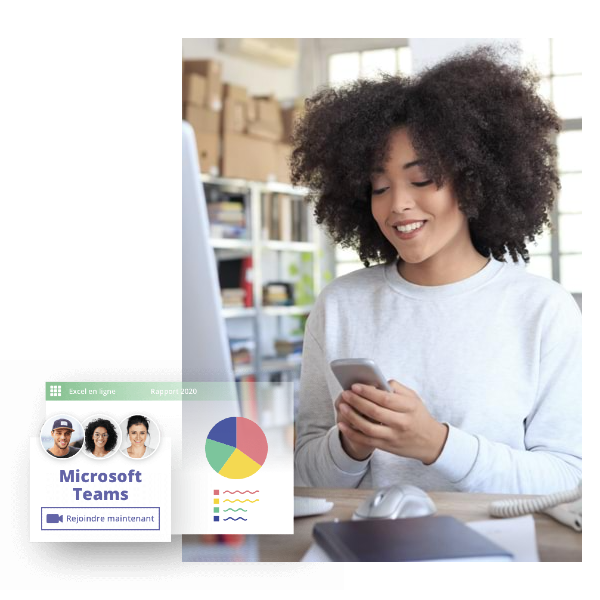 The benefits of Microsoft 365 for your business
Complete Office Pack
Always up to date
You'll always have the latest versions of Microsoft Office applications at your fingertips: Word, Excel, Outlook, etc.
On all your devices
Install Office 365 on multiple devices: up to 5 per user! Work online via apps or via your browser from your mobile or tablet, or on local versions from your computer.
Collaboration tools
Instant communication
Keep in touch: by email with Exchange and its 50 GB of storage space, or by instant messaging and videoconferencing with Microsoft Teams.
Shared calendars and contacts
Thanks to Microsoft Exchange and Outlook functionalities, employees have access to the same information, always up to date.
OneDrive online storage
Easy collaboration and document sharing with 1TB of storage space on OneDrive.
Messagerie sécurisée
Chiffrement des emails
Ayez l'esprit tranquille : tous vos emails sont chiffrés SSL/TLS.
Data centers sécurisés
Vos informations sont stockées dans des data centers qui répondent aux normes européennes de protection des données les plus strictes.
Lancez-vous avec Microsoft Office 365

Choose the package that best suits your needs.
Microsoft 365
Business Basic
The essentials for working and collaborating online
50 GB Exchange Mailbox
Outlook on the web
MS Teams: online meetings and chats
Office online: Word, Excel, PowerPoint
1TB of OneDrive Cloud storage
Anti-virus and anti-spam protection with Exchange Online Protection
24/7 Support & Professional Services
Microsoft 365
Business Standard
All-inclusive package for optimum online and offline productivity
50 GB Exchange Mailbox
Microsoft Outlook 2019 & Outlook on the web
MS Teams: online meetings and chats
Office online + Office 2019 (software to be installed)
1TB of OneDrive Cloud storage
Anti-virus and anti-spam protection with Exchange Online Protection
24/7 Support & Professional Services

Microsoft 365
Business Premium
All-inclusive package for optimum online and offline productivity
50 GB exchange mailbox with unlimited archiving on exchange online

Microsoft Outlook 2019 & Outlook on the web
MS Teams: online meetings and chats
Office online + Office 2019 (software to be installed)
1TB of OneDrive Cloud storage
Anti-virus and anti-spam protection with Exchange Online Protection
Microsoft Azure Information Projection
Managing Microsoft Intune devices
Application protection
24/7 Support & Professional Services
Microsoft Exchange
Plan 1
50 GB mailbox and messages up to 150 MB

Outlook on the web offers a premium browser-based experience

Targeted inbox makes it easier to keep track of the most important e-mails

Automatically move old messages to a local archive
24/7 Support & Professional Services
Microsoft Exchange
Plan 2
100 GB mailbox and messages up to 150 MB

Integrated protection against data loss (DLP)

Cloud voicemail services with answering machine, dialing user interface and automated switchboard
24/7 Support & Professional Services
Microsoft Teams
Essentials
All the features of the free version, plus :

Unlimited group meetings lasting up to 30 hours

Maximum 300 participants per meeting

10 GB online storage space per user

24/7 Support & Professional Services